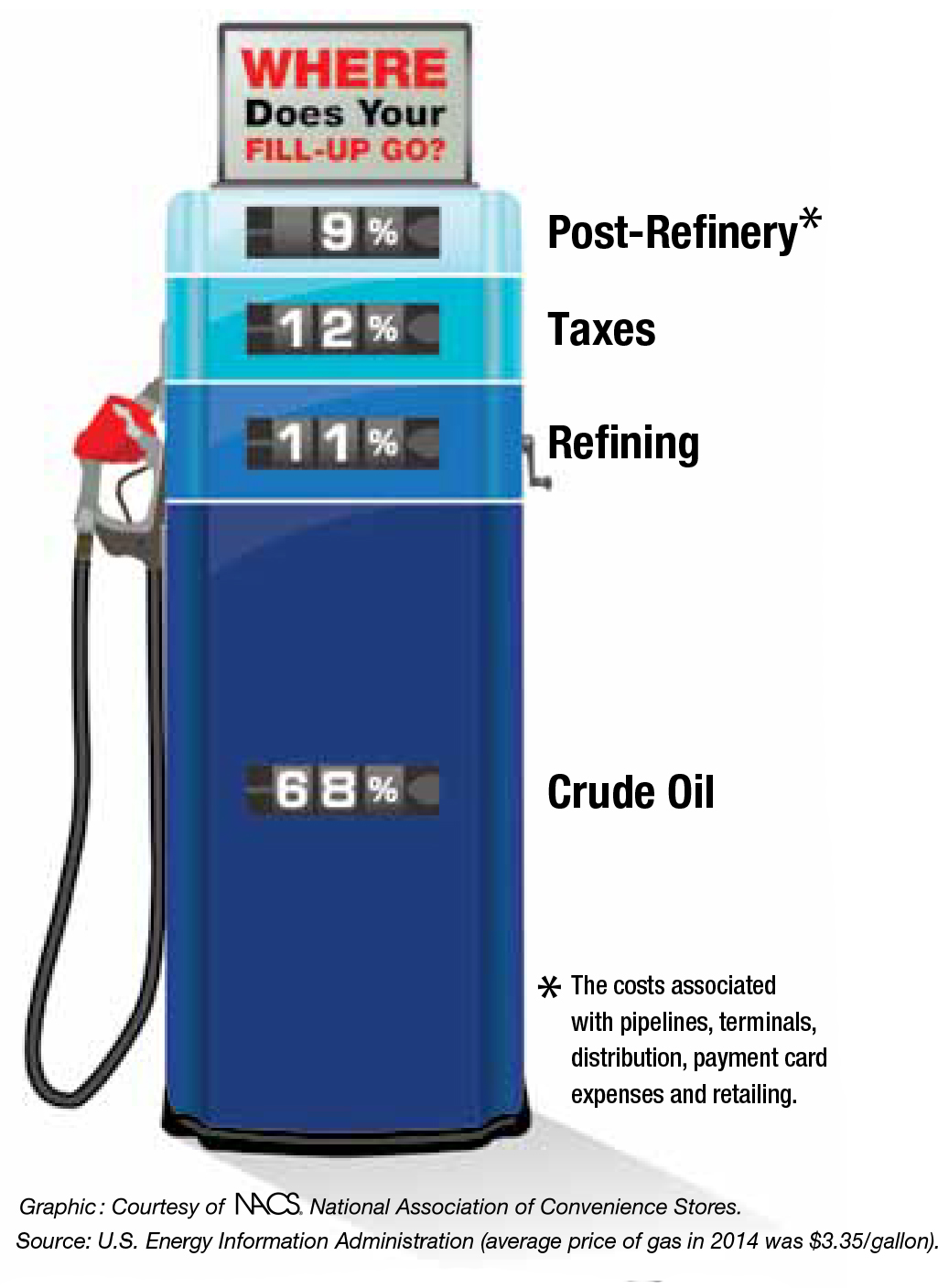 While there are multiple factors that influence the price of gasoline, the major components making up what you pay at the pump are crude oil prices along with federal and state taxes. With the WV tax higher than the average, WV retailers have only 9% post-refinery margin to cover the cost of transportation, credit and debit card transaction costs, and any remaining retailer margin.
Crude Oil Price

Crude oil is the largest factor in the price of gasoline. Over the past several years, crude oil prices have fluctuated between a low of $18.38 in November 2001 to a high of $145.31 per barrel in July 2008.
Low Gasoline Inventories

As crude oil prices rise, refiners cut back on their crude oil purchases and reduce their gasoline production, thus maintaining less inventory. When inventories are low often times the demand is greater than the supply so the cost of transportation is increased because we go further distances to obtain the product.

Refinery and Distribution Problems

Refinery and Distribution Problems: As witnessed in the aftermath of Hurricane Katrina in 2005, pipeline and refinery problems create tight supplies and spot shortages, which can cause a ripple effect throughout the entire U. S. gasoline market. West Virginia does not have a primary pipeline to bring product into the state. All product delivered to the state has to come by barge and truck, which is a more expensive mode of transportation. In addition, WV only has four product terminals while our surrounding states have as many as 69 (PA). These factors all raise the product cost in West Virginia.
Higher Gasoline Production Cost
Government regulations now require cleaner burning, more expensive gasoline for many areas of the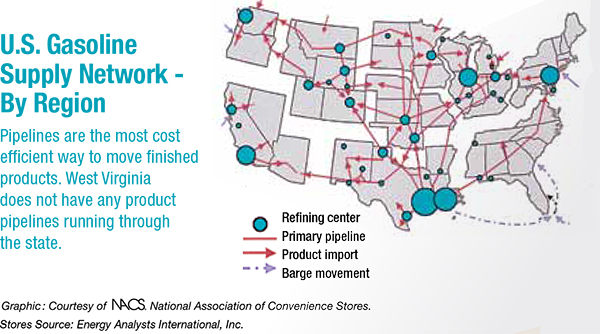 country. The federal government also mandates the challenging process of ethanol blending. Refiners now produce more than three-dozen different grades of gasoline throughout the country. These factors drive up the cost as well.
As you can see, the price of gasoline is affected by many factors outside the control of your local gasoline station or convenience store operator. For additional information on this topic, or if you would like someone to speak on the issue, please contact Traci Nelson at (304) 343-5500.