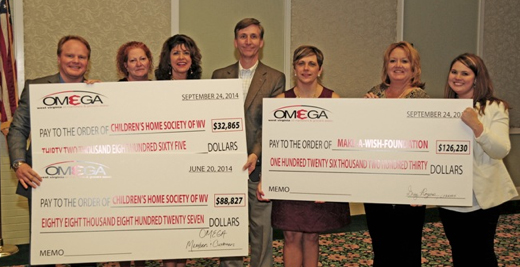 The West Virginia Oil Marketers & Grocers Association (OMEGA), an organization representing convenience stores, independent grocers and petroleum marketers across West Virginia, in conjunction with the Make-A-Wish Foundation®, raised $126,230 to help grant the wishes of children diagnosed with life-threatening conditions during the month of August.
Additionally, the organization has raised over $247,000 in 2014 for organizations that help West Virginia children, and almost $2.1 million since 2003 for charities that improve the health, safety and wellbeing of West Virginia children.
Jan Vineyard, President of OMEGA, said, "Our members, as well as the West Virginia public, truly get behind these efforts to help our children. The results of our August Make-A-Wish Foundation® campaign and our April Children's Home Society effort, during which we raised $88,827, prove this out. This is all about making a difference in a child's life and we are very appreciative of the public who graciously supported this effort."
Vineyard said that all the funds raised through the Make-A-Wish Foundation® campaign will go to the southern and northern West Virginia Chapters of the Make-A-Wish Foundation® and will be used solely to grant children's wishes.
Wish stars were sold for one dollar at nearly 600 OMEGA-member convenience and grocery stores across the state from Aug. 1 – Aug. 30. The Par Mar Convenience Store on Division Street in Parkersburg sold over 3,400 wish stars – the highest total of any individual store across the state.
In addition, a golf outing was held at Glade Springs on Thursday, September 25 where many corporate sponsors, such as ExxonMobil Fuels Marketing, Little General Stores, Inc., Marathon Petroleum Company, Par Mar Oil Company, Team Sledd, Red Bull Energy Drink and others, donated tens of thousands of dollars to the cause. Proceeds from the golf tournament were split between the Make-A-Wish Foundation and the Children's Home Society of West Virginia. Each organization will receive $32,865.
Leandra Hickman, Regional Manager for the Northern West Virginia Make-A-Wish® Foundation, said, "Make-A-Wish® opens up a world of possibilities for children with life-threatening medical conditions and asks them to dream the unimaginable. We then work to make the impossible come true – not just a nice experience for a day, two days or a week, but a life-changing experience that improves the quality of life for the child and his or her family. With OMEGA's help, many more children in our region will have this opportunity. We are very thankful for their participation."