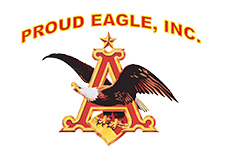 Offers Simple Tips to Prevent Littering
Proud Eagle, Inc., West Virginia's largest Anheuser-Busch distributor, recognizes Earth Day, this Friday, by encouraging residents of our state to engage in litter prevention initiatives and offers simple litter prevention tips.

"Litter is a persistent problem in local communities and one that is 100 percent preventable," said Jim Linsenmeyer, chief operating officer and manager partner of Proud Eagle. "Litter is not the result of a lack of a trash can, but rather a behavior or choice by people who think litter will always be taken care of by someone else."

The fact is litter is everyone's problem and we all have a responsibility to keep our communities beautiful. That's why, in partnership with Keep America Beautiful, a national conservation organization, Anheuser-Busch distributors across the country are encouraging everyone to put litter in its proper place – a trash or recycling receptacle. There are many ways you can keep your community clean, but here are just a few simple tips to get everyone started:


1. Pick up a piece of litter every day. If you see it on a sidewalk or street, pick it up and dispose of it properly.
2. Set an example by not littering. Carry a litter bag in your car or put litter in your pocket until you find a trash receptacle.
3. Teach others the proper way to dispose of trash. Show them the difference between a clean area and an area spoiled by litter and stress why it's important to put trash in proper containers.
4. Make sure that your trash cans have lids that can be securely attached. If you have curbside trash service, don't put out open containers or boxes filled with trash.
5. Tie papers in a bundle before placing them in a curbside recycling bin. Loose papers can be blown out by the wind as can other recyclables.
6. Find out how you can plant and maintain flowers along a curb or sidewalk. Studies show people are less likely to litter where areas have been beautified.
7. Ask your friends and neighbors to join you in cleaning up a common public area where litter has accumulated. Ask your local government to become involved by providing trash bags and gloves and to pick up the bags once the clean-up is finished.
8. If you or a family member is involved in a civic group, scouting, or recreational sports program, encourage the group to become involved in a cleanup. Have the group "adopt" a park or roadway to maintain on a regular basis.

Linsenmeyer added, "The most successful way to prevent littering in your community is to have an ongoing, organized program that involves the local governments, businesses, civic groups, the media, schools, and each and every citizen. Keeping our communities clean and beautiful is easy if we're all willing to do our part."

About Proud Eagle, Inc.:
Proud Eagle was founded in 2008 with the purchase of the Anheuser-Busch rights for the Charleston and Parkersburg, WV, markets and is the largest beer wholesaler in West Virginia, covering all or parts of 14 counties. Proud Eagle is part of The Rucker Group, a network of WV beer wholesalers that covers 40% of the state, and accounts for one out of four beers sold in the entire state. Proud Eagle is dedicated to the communities in which they operate by sponsoring numerous community events, safe ride programs and other initiatives relating to alcohol awareness and responsible drinking.

About Keep America Beautiful:
Established in 1953, Keep American Beautiful is a leading national nonprofit that provides the expertise, program and resources to help people end littering, improve recycling, and beautify American's communities, The organization is driven by the work and passion of more than 600 community-based affiliates, millions of volunteers, and the support of corporate partners, municipalities, elected officials, and individuals.

For more information on Proud Eagle, Inc., please contact Jan Vineyard at jan@omegawv.com or at (304)343-5500, or Jim Linsenmeyer at (304)744-4242.